So that happened!
The Newgrounds 2023 Toronto Meetup was unlike any event that's happened in my life. Little me would not believe that I've attended something like this since treading Newgrounds in 2002.
JULY 28th ARRIVING!
I was really anxious about the plane ride and actually meeting my friends in real life for the first time. I didn't sleep or eat at all that morning but running to catch the plane was eventful. Once I touched down in Toronto, I was even more nervous. All these thoughts were racing through my mind: what would my friends think of me? Will I even fit in?
Taking the train downtown was really nice. It was my second time traveling to Canada but my first time in Toronto. I didn't know what to expect really. All I knew is that Canada was my escapism country since I was a teenager...and that Degrassi took place here (DA CITY OF DRAKE!!). Once we got to Union Station, it was crazy!! The buildings were huge and the streets were bustling! I was really intimidated but I was like damn!! This is da city of dreams!!
After resting for a bit and cleaning up at the place I was staying at, I went off to go see @ninjamuffin99 and my other friends. I was so nervous about us meeting. My thoughts raced about what would happen once they see me. As soon as I saw Cam and @wandaboy running up to me, I was immediately so happy. I hugged all my friends and I met @Snackers and @Cadaver as well for the first time!! I'm trying to remember but it became a bigger group of people once we all met for sushi but I met @droid @Crashtroid @pollyanoid @BrandyBuizel @DemiFrog (Sorry I'm trying to remember everyone's usernames right now! but tag yourself if you were hangin' with me!) It was a lot of fun but I got worried we were all gonna get kicked out for being rowdy.
After that, we went to go see the barbie movie!! Idk if the boys learned anything from it but it reinforced that they were more Kens than Allans!!
We just hung out, drew in each others sketchbooks and drank until it was time to part ways to ready for the meetup the next day!!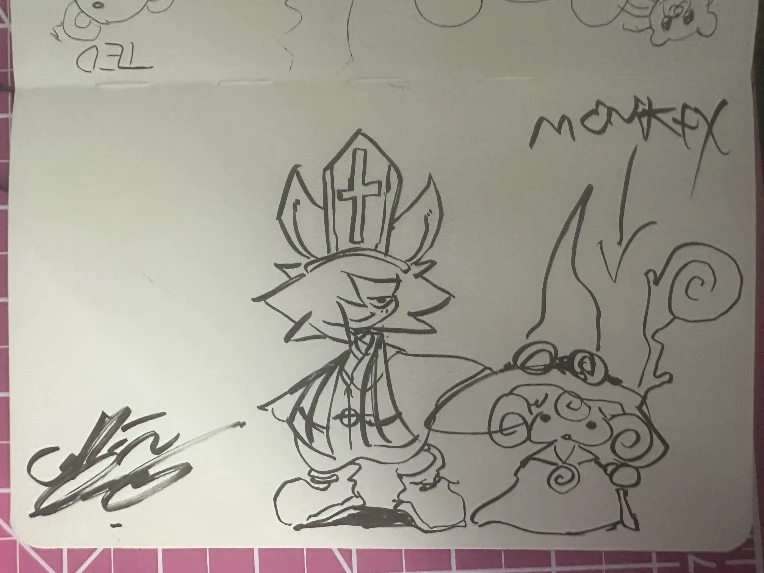 Snackers christened my sketchbook with his characters!! Yippee!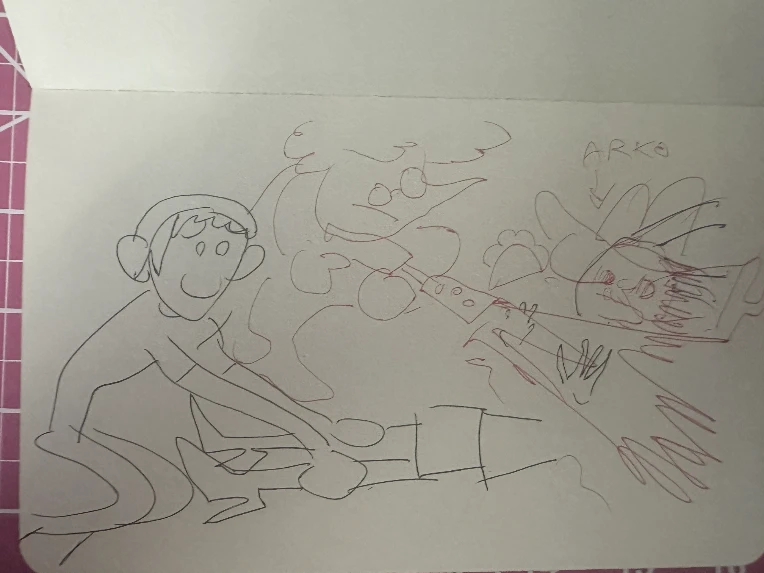 My friends Wanda and Snackers showing me affection
JULY 29TH THE MEETUP!!
Meeting my friends the day before calmed my nerves a little so I was a little more prepared to meet others at the park! I put together Ramona Flowers inspired outfit and shirt to kinda get in the mood, since we were in Toronto and all!
The park meetup was so much fun! There were so many lovely people I met. The first thing I did was meet @Magibauble !! (My buddy!!!) It was so wonderful meeting him in real life.
I also met @TomFulp !! The guy!! The legend!! He was so sweet to talk to!! I was super nervous but I'm glad we could talk as we were walking to the Royal Theater. The Royal Theater was so cool...It almost reminded me of a Alamo Drafthouse but it was a lot cooler! I remember Wanda trying to get everyone to join up in a 3DS lobby to play Mario Kart before the show started, so that was fun!!
God...all the stuff that they showed on screen was awesome!! I was so proud of my friends work being shown!! Three cheers for Snackers, Caddy and Magi!! Yay!! Watching Lunar Kicks on the big screen though was so lovely!! Easily one of my favorite animations on Newgrounds in the most recent years.
Also @AntonM your animation was AWESOME!! I love your artstyle so much!! I can't wait to see you do more animations.
Everyone's stuff was so lovely to see! I gotta go back and rewatch them all again!! Once the showing was over, we went to the pub nearby to all chill. I met THE @Postboy!! I also met @Aaron-Long @octopus58 @spicycoffee @ryychii @Luis @PsychGoldfish @NothanyTPM @elikapika @gachakoi @vhsdreamland @Sevi @WAILER @kmishama @funpix @dry felicity and... I'm still trying to remember more usernames and folks!! I'm sorry haha. If you came up to me and talked to me, please let me know in the comments!! There was a lot of sketches made in my sketchbook and a lot of photos!! AND A LOTTA DRINKIN!!!
My homies !!!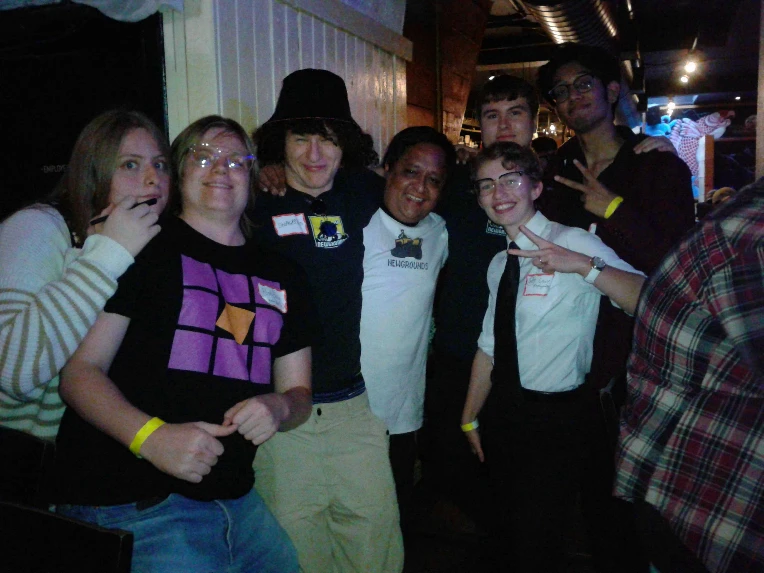 Luis getting a lotta love!! D'aw!!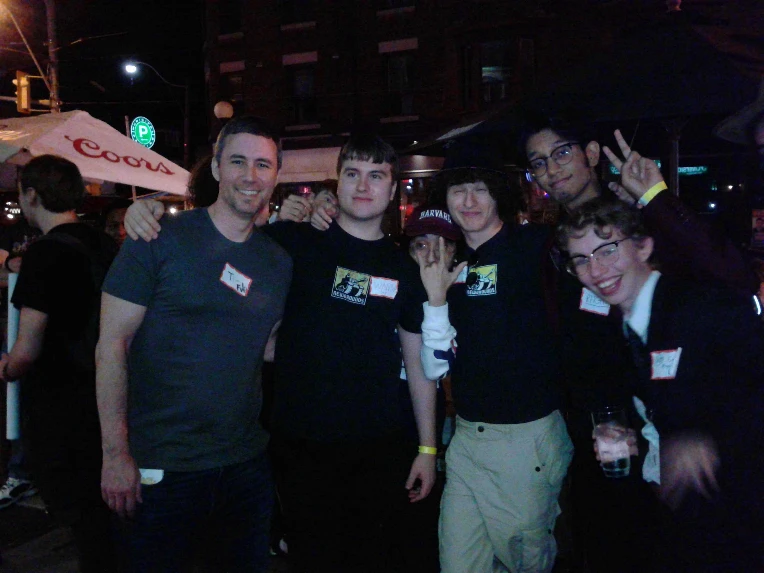 Tom too!! Lookit em!!
That night I met so many people, it was crazy!! After we were at the bar, we visited a Scott Pilgrim staple and went to Sneaky Dees!! We went to the park to chill n smoke and it was so much fun!!
JULY 30TH BARCADE!!
The next day I met up with the crew (Cam, Caddy, Wanda, Snackers, Post Boy, Magi) and we played Brain Age!! I won all of them maybe exception of one match :D And then we played Mario Kart and I lost!!
Later on, we went to a barcade where you could pretty much play all the games for free for an afternoon and just drink to your hearts' content. That was so cool!! I got a Flying Monkey IPA that was really strong! I did not expect to get drunk so fast but it was so much fun playing games with the Newgrounds crew that stayed an extra day. I'll never forget it. It was a really wonderful Sunday!
JULY 31ST - AUGUST 3RD
Pretty much after that, more people were starting to head home and I stayed around and hung out with my friends. We went to a Blue Jays game, we did some karaoke, my pals ate a Donny Burger at Wahlburgers and just explored the city. I also got to meet the Funkin Crew, who were incredibly lovely and super passionate about game development. It was lovely getting to know them!! I loved talking to all my pals, just about art, about life, and what's to come. I had deep talks with Wanda, Snackers and Caddy and those late nights where we were just smoking, thinking about the future, I'll never forget it. This trip truly changed my life and is starting to encourage me to get out of this rut I've been for a period of time.
I feel more confident in what I want to do with my life and who I want to become. I want to keep doing my best in art. I want to make something worthwhile I hope I can be proud of and others can enjoy. I want to keep meeting my friends every year and share new experiences with them. I cannot emphasize enough how much I love them and that I always pray and wish the best for them. Thank you everyone. I really love you guys.
On the final day, me and Snackers had to head to the airport together so the gang walked around for a little bit. I didn't expect it but on the very last day I met @PhantomArcade in the flesh!! He's so fucking cool and sweet! I wish we had hung out prior but here's hoping we can hang out more next time!! That guy is freakin awesome!!
Caddy and Wanda took me and Snackers to the train station to the airport and we hugged each other goodbye. I was a bittersweet moment. Once me and Snackers reached the airport, we hugged each other goodbye and parted ways.
I cried on the way to customs once I realized the whole week was over. I felt like I had lived an entire lifetime of emotions in a week. It leaves me yearning for whats to come the rest of this year and for when I meet my friends again in the future, hopefully sooner that 2024.
Thank you @ninjamuffin99 for hosting this wonderful event. You are a homie for life!! All of you are. To everyone that I didn't get to say hi to, please add me on here and we can exchange discords or something!! It was wonderful meeting everyone. Newgrounds really is a tight community!! Thank you @TomFulp for hosting an amazing website full of talented creators!!
At some point I will try to upload all the wonderful stuff everyone wrote, gave me, and drew in my sketchbooks too.
But with that...